Welcome to North Shore Ice Arena
The North Shore Ice Arena will open on Monday, June 1st, 2020. Please read the following rules carefully as they will be strictly enforced by the NSIA staff to ensure the safety of all.
No parents or guardians will be allowed inside the building.
The lobby, bleachers, locker rooms, and bathrooms will be closed.
Only half NHL and studio rentals are available. Full sheet NHL rentals are not permitted in June.
There will be a 20 minute gap between rentals to allow for groups to leave, for staff to clean the ice and for arrivals for the following slot. Please do not arrive more than 5 minutes prior to your scheduled ice. The doors will be locked until your designated time.
Skaters must arrive fully dressed, with skate guards on.
There will be a staging area, for goalies only, at each door so goalies may put on goalie pads. Goalies still must have skate guards to walk to the rink from staging area.
All skaters (excluding goalies) are encouraged (but not required) to have a bubble mask or combo cage.
All skaters must sign the Attached Waiver.  It is the Coaches responsibility to make sure all skaters have signed the waiver and waivers given to rink management.
There will be a maximum of 10 people per ice slot, including coaches. Coaches are responsible for practicing social distancing guidelines on the ice and will keep skaters 6 feet apart  from one another.
All coaches must wear a medical masks. 
There will be designated entrances depending on which rink you are skating. You must go to the entrance listed. Doors will be labeled. You will not be allowed to walk through the rink. Click here for the Designated Entrance Map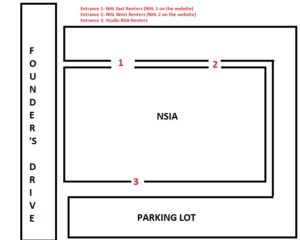 Entrance 1: for NHL East Renters ( NHL 1 on our website)
Entrance 2: for NHL West Renters( NHL 2 on our website)
Entrance 3: for Studio Rink Renters
If skaters are not fully dressed, wearing the appropriate face mask and skate guards, they will NOT be allowed to enter the building. If a skater or coach violates any of the above rules, the entire group will be removed from the building.