Welcome to North Shore Ice Arena
NSIA Ice Arena is excited to host its 3rd Annual 3 on 3 Summer Classic
June 10th – 13th, 2021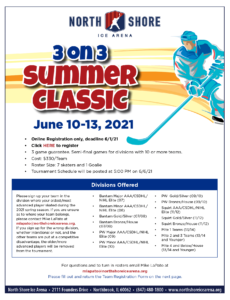 CLICK HERE for the 3 on 3 Summer Classic Schedule (Updated 6/7 at 1pm)
CLICK HERE for the Tournament Rules
Click Here for more Details and to Register your team!
The North Shore Ice Arena is dedicated to keeping all skaters and employees safe and healthy. Please follow the rules below to ensure the safety of all.
Effective February 2nd, 2021
1 spectator per skater will be allowed in the stands. 
Please keep a 6 foot space between you and the other spectators. 
Masks are required to be worn when not on the ice.
Please stay at home if you have any respiratory symptoms. (coughing, sneezing, shortness of breath) and or a fever.
Please encourage your skater to maintain social distancing.
All skaters (excluding goalies) are encouraged (but not required) to have a bubble mask or combo cage.